Liam Treadwell has been described as an "absolute diamond" at a special race to commemorate the Grand National Prix winning jockey on the anniversary of his death.
Treadwell, who rode a 100-1 Mon Mome shot to win the 2009 Grand National Championship, was found dead at age 34 at his Shropshire home last June.
All seven races in Worcester are named after him, and his favorite music was played among the event.
"He looks down on us," Sam Twiston Davies told BBC Sport.
Mon Mome, now 21, was shown around the ring during the match.
Twiston-Davies won the opening in The Memory Of Liam Treadwell Novices' Chase over Captain Tom Cat, trained by Dr. Richard Newland.
Treadwell spoke of suffering from depression after suffering a concussion in a fall. Investigation into his death I scored a bad luck verdict.
"It was such a weird atmosphere because you're watching the races and it's all fondly remembered and still very hard to believe," said Twiston Davies.
"He was a great knight, but he was a better person.
"In the weight room, he was someone you'd go to for a conversation. Even if you were throwing your toys out of the stroller, he'd just sit and listen and say, 'Come on, that's not that bad.'" "
"You won't find a single person saying a bad word about 'Treaders.' It was an absolute diamond, gentlemen."
Wrapping up next summer, Ibiza's #Captaintreaders Mares' Maiden Hurdle invite to Legendary Grace, ridden by James Best for coach Nick Gifford, who presented Treadwell's first winners of his career.
We still think about him. We still miss him," Gifford said. "He was very young.
"Let's hope this day turns out to be useful, and if there are any riders who are struggling, I hope they know there is help available to them."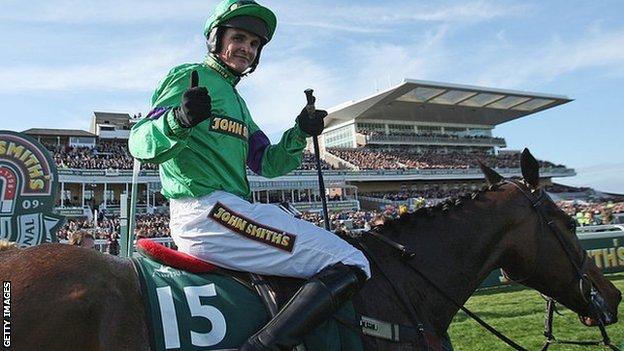 Treadwell's boyfriend James Banks died earlier in 2020, and Twiston Davis said it's important to him Knights to discuss mental health.
"It can be something that's hard to talk about," he said. "You sit in the car and throw in a few 'Fs' and the blackout curtains, it's very easy to get sucked into what is a little racing bubble. You have to go out and talk about what is a bigger, wider world.
"We're all here competing as usual, as viewers wanted – laughing, joking, smiling and remembering everything that made Liam Treadwell such a great person."
A race memorabilia auction in memory of Treadwell helps raise funds for the Brain Injury Charity Headway and the Injured Knights Fund.
Former amateur rider Jeremy Mahut is set to take part in a fundraising mountain bike race 550km across the Alps.
Rebecca Davies, CEO of Luster, said: "It was the idea for his friends and family to celebrate his life and fondly remember him and raise money at the same time.
"We had just under 1,000 people here, the sun came up and a lot of people came out in memory of Liam."