Date:
Saturday 3 July
Starting:
17:00 GMT
Place:
Emirates Airline Garden, Johannesburg
Scotland's Stuart Hogg captained the new British and Irish Lions in the opening round against the Emirates Lions in Johannesburg on Saturday.
Luke Johnny Hill, winger Hamish Watson, quarterback Chris Harris and winger Louis Reese Zammit made their first appearances among 14 changes from the win over Japan.
Josh Adams retains his spot on the wing, while Finland's Russell and Owen Farrell form an exciting 10-12 pair.
"It's good to start the tour," said Warren Gatland, president of Lions.
"There are some new player groups for us to look at on Saturday – which is good information for us as the Test series approaches.
"Congratulations to all who played their first game as a Lion, and for Houji as well – I am sure he will lead the team by example."
The Lions, who lost four of their five matches in the last Rainbow Cup, will determine their team for the match at 16:00 BST on Thursday.


Black team to face Emirates Lions: Hough. Reese Zammit, Harris, Farrell, Adams; Russell, Bryce W. Jones, George, Sinclair, Etoge, Hill, Luz, H. Watson, Valletau.
Alternatives: Kwan Dickey, Vunipola, Fagerson, Henderson, Symonds, Davies, Aki, Daly


"If I see it working, I trust my skills"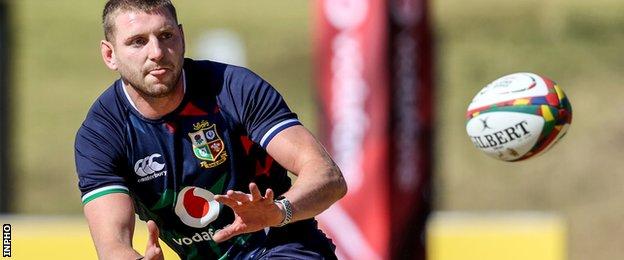 Russell introduced his former Lions appearance as a replacement for Dan Biggar in Drawn 31-31 with the hurricanes four years ago in New Zealand.
The zealous half says the instinctive running style that was his hallmark in Scotland and Racing 92 will continue to be part of his game is red-black.
"The maverick thing has been said since I've been here. In Scotland or Glasgow it was an open match, hence the mark I think," he said.
"It's kind of stuck. It doesn't bother me either way.
"If I see it working, I trust my skills, so I will always have a crack. You have to make a decision in a split second what is best to do.
"If the space is there, I'm not afraid to go and try something, whether it's a missed pass or whatever.
"Again, that will come depending on how we're going to play in South Africa. You'll feel the choices of risk and reward and how we're going to play the game."
Russell will have international partner mid-back Ali Price in the scrum half position to help him sleep.