Martin Stewart Nielsen of Greve Strand Badminton Club wrote:
"This is a very interesting and useful discussion.
As a parent, for many years I have been a regular part of "roller badminton" in the country's many halls.
Last year I had four experiences that so confirm the story from Ledøje-Smørum and I must admit that as a volunteer I had the pleasure of visiting without coaches and parents.
1) DM for teams – Spring 2021.
We registered a squad for the Danish U17/U19 Championships 4+2 15,000 On the recommendation of our coaches, we had an additional player of each gender, ie. A total of 8 players. Thus, we adults could not be in the hall, where 8 was the maximum number for each individual. club.
Our guys had a great day in the hall – no hernia, there were almost no conflicts and little ones resolved with tolerance – and they were in charge of the team lineups, training and all that. The final match was played between the two teams in which there were no adults – thoughtful.
Our young people experienced that it was a day when they felt free to play badminton and enjoy socializing.
2) U15E and U13M مسابقة competition
Greve had the pleasure of this double event in June and our experiences were exactly the same as at Ledøje-Smørum.
Happy young players who enjoyed the matches and not least the social gatherings across the clubs.
I remember a situation where a father hands his son and ends with a long monologue about how the son plays against an opponent in the first match. Tactics, favorite shots, and more. The son stands and walks. Say goodbye and rush to his friends.
A highly experienced volunteer, who has been in charge of the judging panel at countless gatherings, later stated, "It's the most beautiful rally we've had at these ranks in years. Young people have such a great time together and we don't have to deal with all the complaints of the parents"
3) UDM 2020 og UDM 2021
These two big conferences take place in August 2020 and June 2021. The difference is that in June 2021 there may be a limited number of parents in the hall.
I volunteered at both conventions and there was a noticeable difference in the atmosphere.
This year was more active and tense as everyone was aware of 'what is happening now'.
At the tournament in August, there were far fewer disagreements between players – more focus on the game on the field rather than the reaction of coaches, parents and others.
There is no doubt that I prefer the model without parents/coaches in a variety of situations because it actually allows players to focus on the game.
At the same time, she unfortunately was subjected to a lot of pressure from parents about 'we want in the hall' even though it was banned due to Corona. Obviously, I'm experiencing that it's largely the parents who ask to come into the room – not the other way around.
Tore Frydensbjerg Vilhelmsen – It worries me when the starting point is that we shouldn't change the paradigm we know. (See the Facebook thread from the post on 30.06.21 or the image below)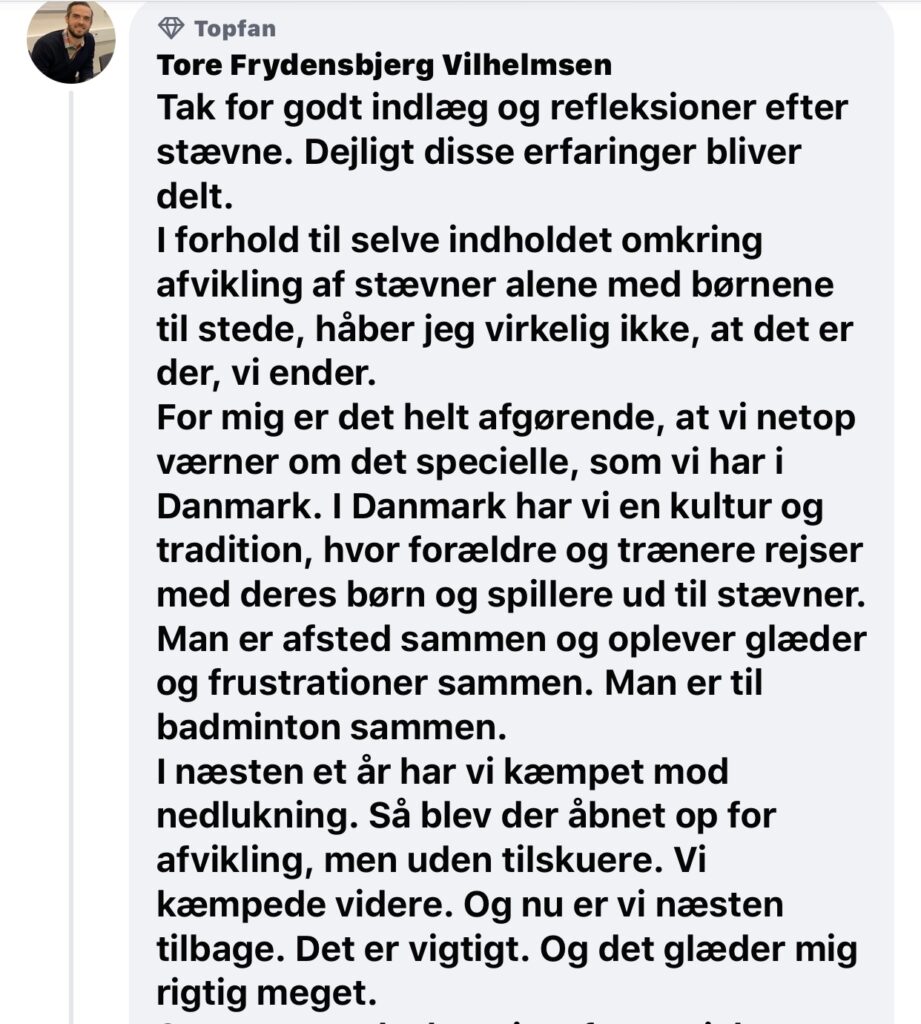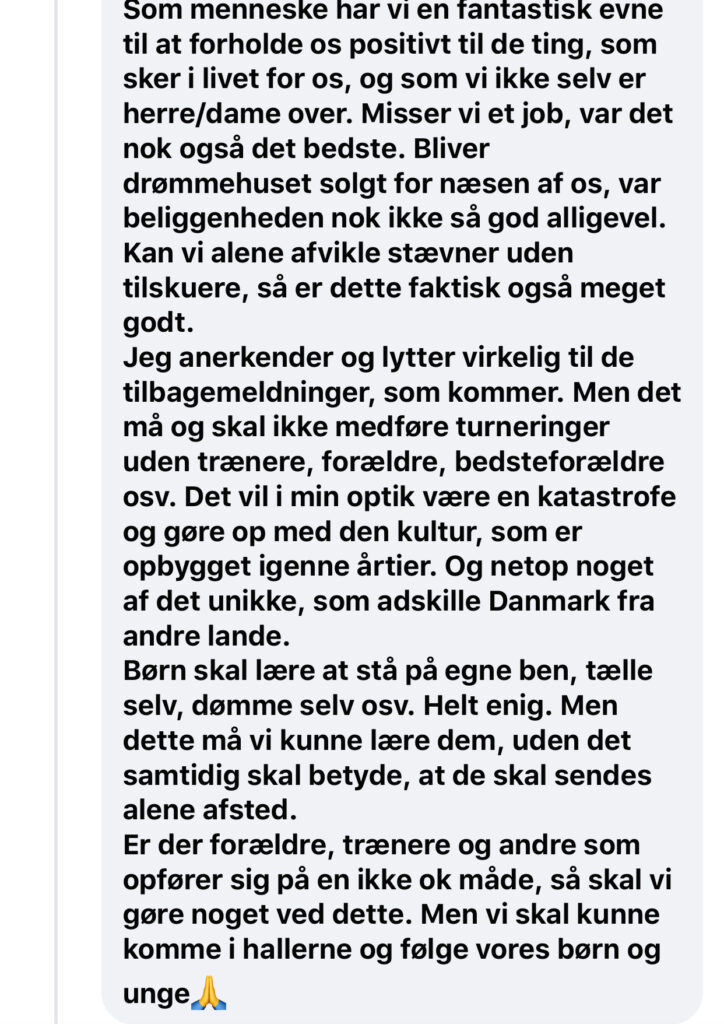 It's good to have a tradition of fathers in the hall – and it should also be an opportunity in the future.
As a volunteer parent and badminton parent, I have to make it clear that in a number of situations parents help create stress, frustration, and a lot of bad mood in the hall.
For many players, that spoils the day and the experience of being in the tournament. They spoil their enjoyment of the sport – especially in the lower ranks. Lots of aspiring parents stretch their legs out to enjoy badminton – and that means we also in our club experience that when new players go to competition for the first time, they come home with bad experiences and say 'I don't want to do it the second time – because it wasn't fun. It was even more unpleasant."
Thus, we shoot ourselves and lose the active players in the tournament, which has already been seen in recent years (then I did not mention this strange arrangement that few people understand!!!!!!)
Therefore, we must and must rethink event settlement models. Can, for example. That it would be up to the clubs to decide whether the event would be held without spectators.
Innovation is required at all stages of life – also in badminton for youth."
Martin Stewart Nielsen
Chair of the Activity Committee, Greve Strand Badminton Club, and assumed primary responsibility for our role in relation to UDM in 2020 and 2021.