Peugeot has taken the cover of the new 9X8, its Le Mans Hypercar challenger ready to make its competitive debut in the FIA ​​World Endurance Championship in 2022.
Powered by a hybrid power unit that drives through four-wheel drive transmission, the prototype is an expression of Peugeot's Neo-Performance strategy that delivers performance to both the brand's road and race cars.
The Le Mans Hypercar project enabled the manufacturer's engineering team and design to work hand in hand, allowing new aerodynamic solutions to be explored, such as the absence of the rear wing and styling ideas, thereby performing a strong brand identity.
9X8 is a successor to the 905, winner of Le Mans 24 Hours in 1992 and 1993, and the 908, which won the French classic in 2009. The new prototype is ready to continue the brand's long and successful commitment to world-class motorsport with cars that have strong, instantly recognizable brand identity.
The name of Peugeot's new Hypercar challenger is the Peugeot 9X8. "9" continues the series that the manufacturer uses for its recent top-flying race cars, namely the Peugeot 905 and 908.
"X" refers to Peugeot Hypercar's four-wheel drive technology and hybrid powertrain that incorporate the brand's electrification strategy into the world of motorsport.
"8" is the suffix used for all of Peugeot's current model names, from the 208 and 2008 to the 308, 3008, 5008 and 508, which recently went through the hands of engineers and designers who made the Hypercar the first car to sport Peugeot Sport Engineered brand.
"The overall lines of the Peugeot 9X8 express the brand's styling cues, while its sleek, healthy, elegant shapes inspire emotion and dynamism," said Peugeot's design director Matthias Hossann.
Extraordinary attention was also paid to the interior of the 9X8. "We wanted to take a special approach to the cockpit, which until now has had a purely functional and unobtrusive part of race cars without any brand identity," emphasizes Hossann.
"The combination of our color scheme and Peugeot's i-Cockpit interior styling signature has given the 9X8's cockpit a distinctive feel and instantly identifiable as a PEUGEOT in on-camera camera footage." he concludes.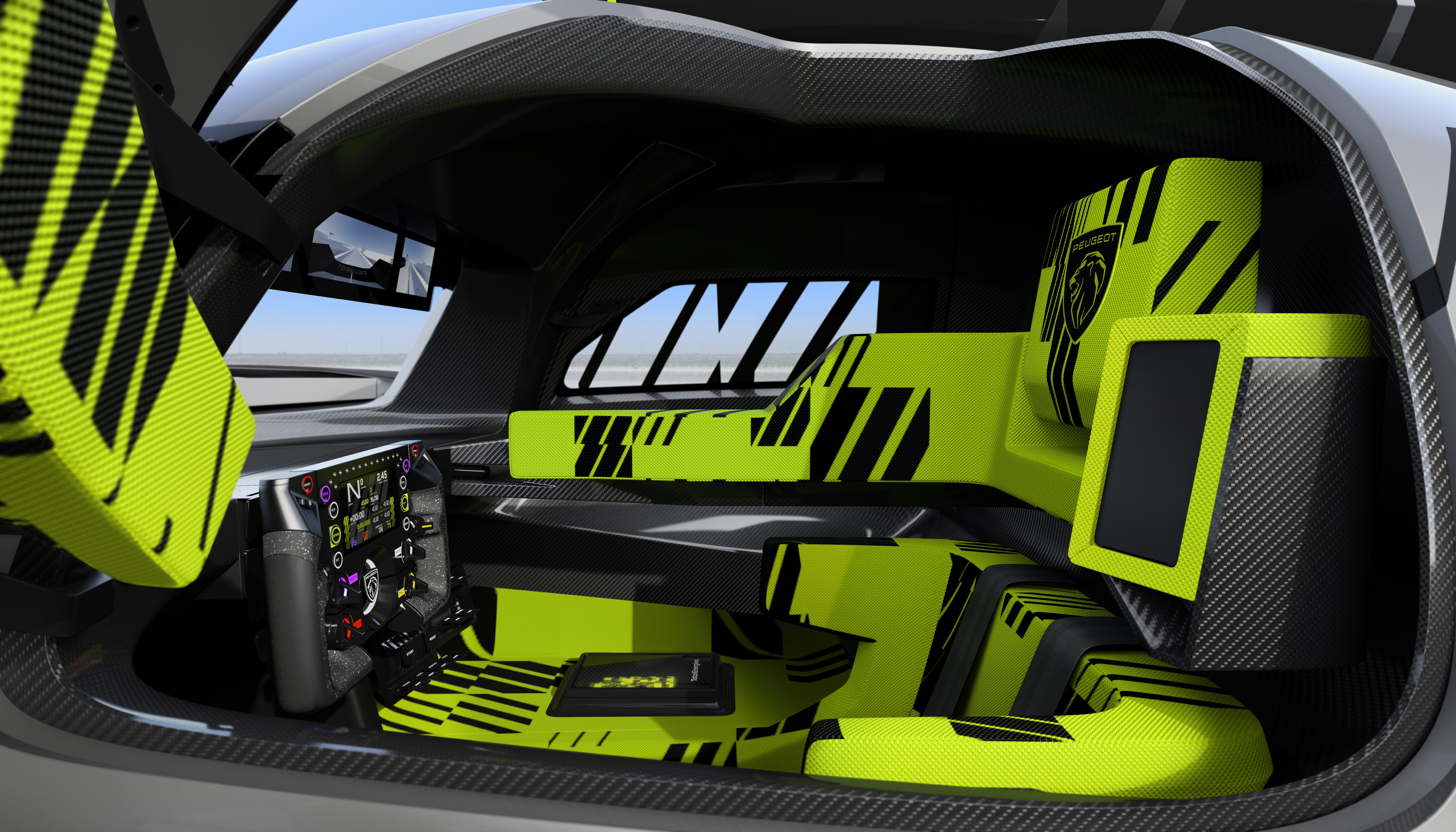 "The new Le Mans Hypercar rules were developed to equalize the importance of conventional performance-enhancing systems," explains Olivier Jansonnie, Peugeot Sports' technical director for the WEC program.
"The design of the 9X8 has been a passionate experience because we had the freedom to invent, innovate and explore ways that are off the wall to optimize the car's performance and especially its aerodynamics. The rules stipulate that only an adjustable aerodynamic unit is permitted without specifying the rear wing. Our computational work and simulations revealed that high performance was effectively possible without one. "
"The absence of a rear wing on the Peugeot 9X8 is a major innovative step," says Stellantis Motorsport Director Jean-Marc Finot. "We have achieved a degree of aerodynamic efficiency that allows us to eliminate this feature. However, do not ask how! We all have intentions of keeping it a secret for as long as we possibly can! "
"There is more to Peugeot's commitment to endurance racing than the sporting aspect," insists Linda Jackson.
"Endurance racing is a form of motorsport that gives us an extreme laboratory, which explains why our attachment to Le Mans is so strong. More perhaps perhaps than the results we achieve on the racetrack are the opportunities it provides to prove our technology and the fruit of our research work in a race that throws extreme conditions at you in 24 hours. "
"Le Mans gives us a competitive environment to validate the hybrid systems and technologies we are currently developing to reduce fuel consumption – and thus CO2 emissions – in our cars. The teams at Peugeot Sport are proud to see their research transferred to our For our customers, Le Mans is a laboratory that testifies to the quality of our cars. "
A pair of Peugeot's 9X8s are battling next year's FIA WEC.
PEUGEOT 9X8 LE MANS HYPERCAR – SPEC AND TECH
Length: 5,000 mm
Width: 2,080mm
Height: 1,180mm
Wheelbase: 3,045mm
Drives: Peugeot Hybrid4 500KW (four-wheel drive)
Rear train: 500kW (680hp), 2.6L twin-turbo, 90-degree V6 petrol internal combustion engine + seven-speed sequential transmission
Front-drive trains: 200kW electric motor generator + reduction speed with one speed
Battery: 900-volt high-density battery co-designed by Peugeot Sport, TotalEnergies / Saft
Fuel and lubricants: Total energies
.