These days remain uncertain for British and Irish lions, although there will be a second heavy sandbag for sharks in four days. The first test against the Springboks is, frighteningly, now less than two weeks away, and scoring 11 attempts against opponents reduced to 14 players for most of the second half isn't a measure of what lies ahead.
There are also a few troubling injury issues to complicate Warren Gatland's plans, the latest of which necessitated a surprise recall of Harlequins' Marcus Smith as cover for Art Russell. Half a fly in Scotland has damaged the Achilles tendon and looks very doubtful at the start of a test series that would be an entirely different board from the Biltung. "We are well aware of how hard and physical Springboks will bring," Gatland warned. "It will be difficult for us and we may not have been as tested for the 80 minutes as we need to be."
Gatland admitted that it was his most chaotic few days as a coach: "There was a mess. Then it's about adapting to that and then changing. That was the mantra. I thought we dealt with it during the week. I see it as positive. If there's anything wrong with us, that's it. It doesn't bother us. We are able to make decisions quickly and move forward."
With Maro Itoje withdrawing before kick-off due to a stomach bug and five party members remaining in Covid-19 isolation until Wednesday, it was perhaps no surprise that the Lions lacked candor and authority at times, not least in their first 40 minutes.
On the plus side, it was a decent day for Anthony Watson and Dohan van der Merwe, who both looked impressively strong as the Lions won the second half 45-5 against their now-familiar opponents.
Even Mayor Amity didn't see many sharks in such rapid succession, but this was a thought-provoking sequel. Almost for the first time on the tour, the lions were asked some physical questions and they ended up giving away five attempts. What Gatland ideally wanted to see was his attackers holding a firm grip in the stack of plates and leading the blows. Instead, visitors initially immersed themselves in a roller coaster competition with eight attempts in the first half alone.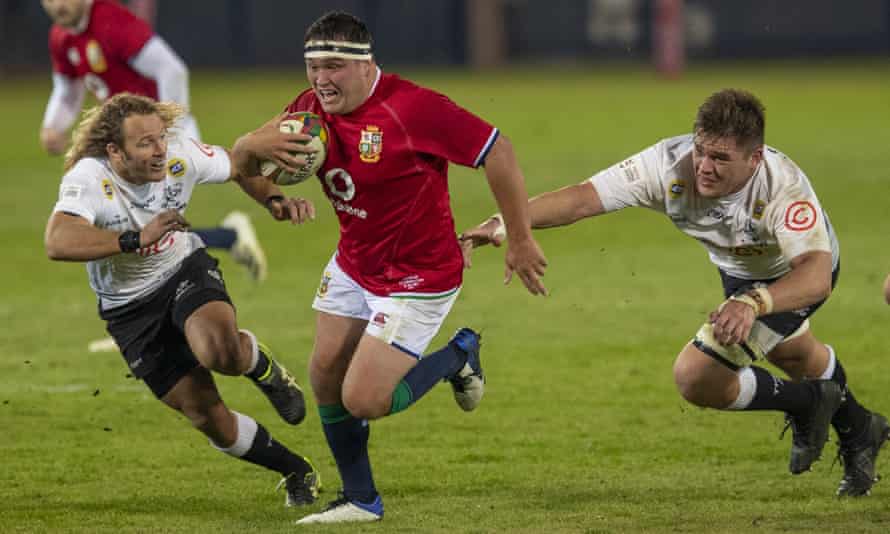 The turmoil of recent days and the volatile nature of the first meeting seem to have distracted the Lions, but the sharks were also hungry for some non-force fouls, from Elliot Daly's midfield flop to finding a spinning opportunity that Anthony was riven. Vollmink gleefully accepted.
The second attempt was the product of a neat chip from the outer half of Lionel Cronje to the unmarked Thacker Abrahams but the third was another boon, with Jaden Hendricksi making a light pass from Davis in Biggar's direction and past the back cover.
Lions looked better with the ball in hand, with van der Merwe, in particular, making his presence felt. The Worcester-bound winger selflessly created his first attempt at the game for his Scottish teammate Chris Harris with a powerful blast and a third scoring complimenting his team of great work from Dan Biggar and Liam Williams. Between Jimmy George, he broke through at close range but there was no sense of his team dictating events. Sure enough, it was the sharks that got ahead again with another lion stumble, this time by Van der Merwe of Biggar's stray pass, which allowed Abrahams to feed Volminck on his second try.
There was still another first-half attempt by the Lions, with Tadhg Beirne taking advantage of a large defensive gap to dive, but the 26-26 first-half score accurately mirrored the competition. Sharks enjoyed 65% of the territory and it's clear that the lions need to get back to basics.
They might have pulled away anyway, but that all changed when a raucous Hendrix came to the aid of Dylan Richardson who had already dealt with Williams and threw his sly elbow to the Welsh full back's head on the floor.
Alerted to this misbehavior, England referee, Wayne Barnes, saw no reason not to reach his red card, and from that moment on, the Sharks were doomed to failure despite Werner Cook's persistent attempt after Conor Murray's box kick was deducted. With the sharks' defense thawed, George and Byrne both helped themselves to the double while Daly and Watson showed their class to reach the scoresheet as well. Watson, set up again by Biggar's inner ball, also showed good speed to serve Tom Curry and then fired back on his team's 11th attempt.
In theory, the Lions are now set to face South Africa A in Cape Town on Wednesday followed by the Stormers on Saturday, but Gatland is still expected to switch those two matches. Even by the standards of regular Lions tours, this proves to be a unique challenge.